It is early this year, for the men in my house always WAY too early or better said 2 WAYS too early
Here to the official opening of the ASPAAAAARAGUS season !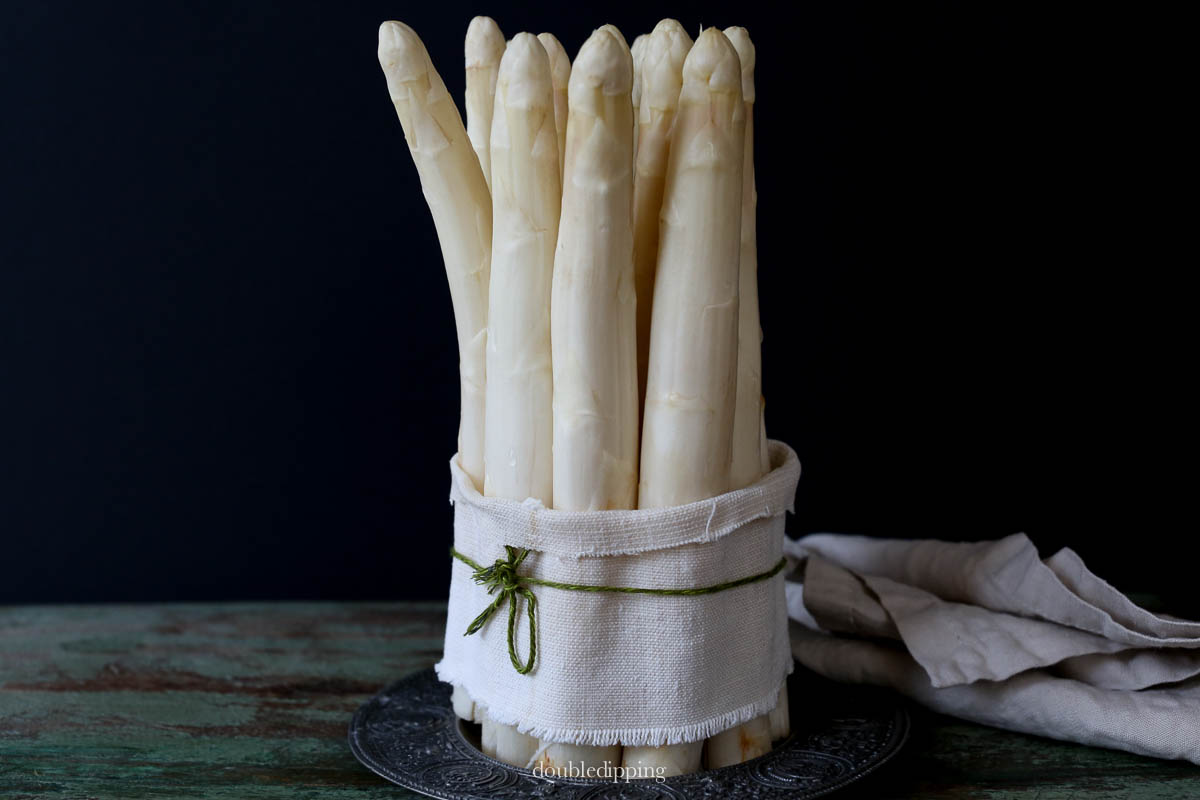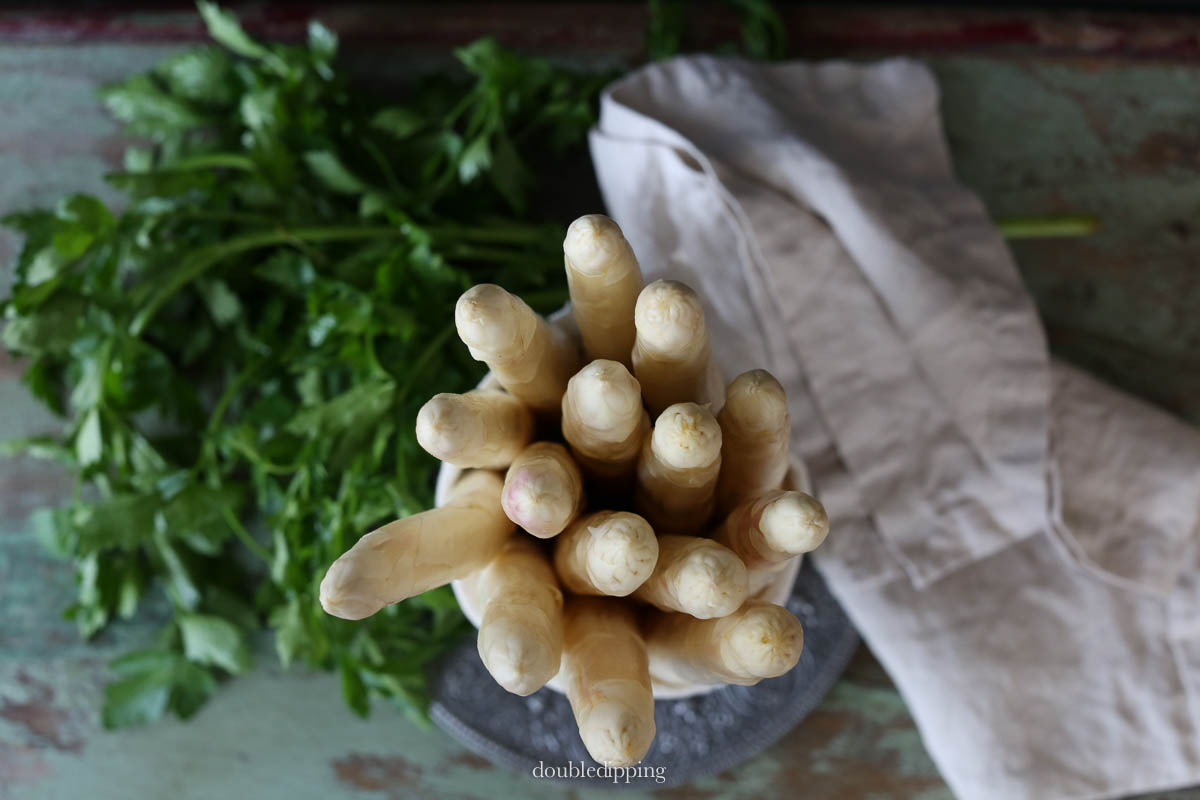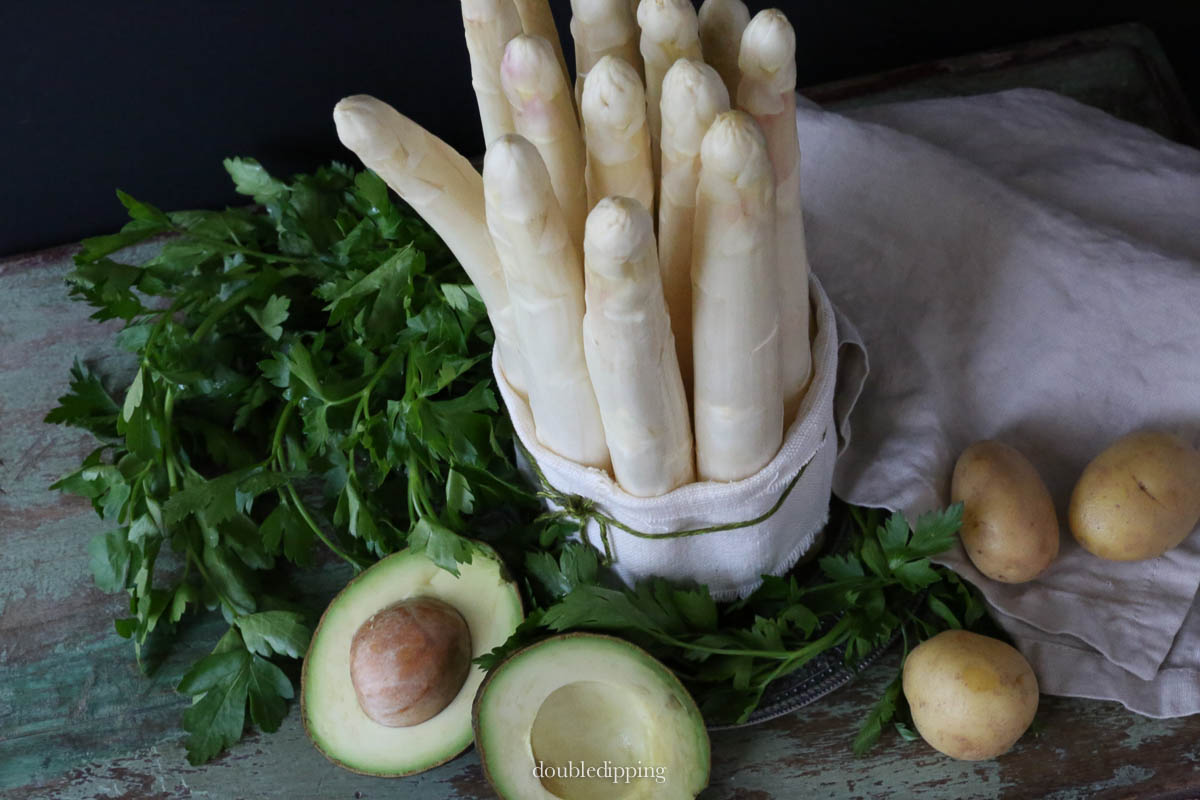 Ever since the steam cooker conquered my kitchen every vegetable is steamed and I completely forgot how to ruin vegetables' unique taste when cooking them in water with salt, sugar, lemon and other flavors! So here is my advice for asparagus: peel it, place it on a tray and then in the steamer for 9 minutes, 100° and 100% steam. READY! And the taste is just so much better.
After that it's totally up to you, I personally think they can be eaten just as they are. Some fancy melted butter and breadcrumbs, some like just butter and salt, some might prefer Sauce Hollandaise. For now I'll show you my Bärlauchpesto or Wood Garlic Pesto and a Salad with one of my golden colored Easter eggs, the "real" ones I shared on Instagram.
Pesto:
big bunch of wood garlic/ramson/wild garlic ... Bärlauch in German
1 cup ground pine nuts
1 ½ cups plain olive oil
1 cup grated parmesan cheese
rock salt
Kept in the fridge in a a glass jar with lid, the pesto lasts for about 2 weeks, and is perfect as well for pasta, on crostinis, with grilled fish or as an addition in a salad dressing. Use it on everything you like, just be careful picking the wild garlic (but you can also made with normal basil add some garlic for the taste), as it can be mistaken with the leaves of meadow saffron, which cannot be eaten.
Asparagus Salad
3 cups cooked and cut white asparagus
1 golden easter egg :) diced
¼ cup chopped white onion
¼ cup linseed oil
¼ cup olive oil
¼ cup white balsamic vinegar
salt, pepper from the mill,
a dash honey (optional )
Lemon balm, fresh parsley, fresh oregino together ¼ cup full
When I cut the asparagus in an angle to get ovals, I leave the tender buds 2'' long for decoration and the dressing can be mixed in well. Then let the salad marinate for some hours before serving and add the fresh herbs just before you arrange the salad in individual bowls with the asparagus buds on top and a pretty lemon balm leaf if you're feeling fancy: