There are family recipes that cross over to becoming a comfort zone of its own. Each family has them and you might not think that other families could share your enthusiasm for your favorite recipe, that will bring a smile to all present around the dinner table. This one I admit is hard to put in picture but the smell is just so yummy and oh it is so heartwarming. This has been my husbands and Sophie's favorite for the longest time. Each time we share it with guests it is received with cheers. I shared it over the phone and over the fence and now over the internet.
You need:
aubergines, washed and cut in 3mm thick slices – as man as make 1/2 m2 of slices layed out
salt, to draw the bitterness out of the aubergine slices on both sides
olive oil, plenty so the slices are saturated with oil.
Sauce:
500 gr or a jar of tomato sauce
fresh garlic cloves, cut in junks
chili, salt, olive oil, basil or parsley
Lots of grated parmesan, some Mozzarella cut in slices
First you let he salted aubergines slices rest on the board. The strange thing is that the liquid that will form can stain your newly bought board, that it why I have a set of old boards I use for this recipe, that is already stained.
In the meantime make the tomato sauce:
In a pan heat olive oil and add the garlic and stir until they become slightly cooked. Them add the tomato sauce, this will probably make some noise, very common if watery stuff meets oil.
season with cii and a little salt, not too much. Remember you salted the aubergines and you do you do not want to make such an effort and then ruin it with being too generous with salt. Salt can be added to meet your taste at any time after. The basil is added just before you turn the heat off, the whole dish will bake for another 35-40 minutes in the oven
After half an hour you see drops you detect o the slices due to the salt, that draws out the bitterness of the vegetable.
Dry the aubergines with the help of paper towels, you can even drain the liquid if possible. In a pan on medium to high and with the help of the olive oil, fry them until they are fairly dark browned and loose diminish their size a little. When turning them over they need again a good sprinkle of oil.
Preheat oven to 200°C
The fried aubergines when ready can be set aside until later. Continue until all of your aubergines are done in case they are to many you can use the rest in a salad or a sandwich,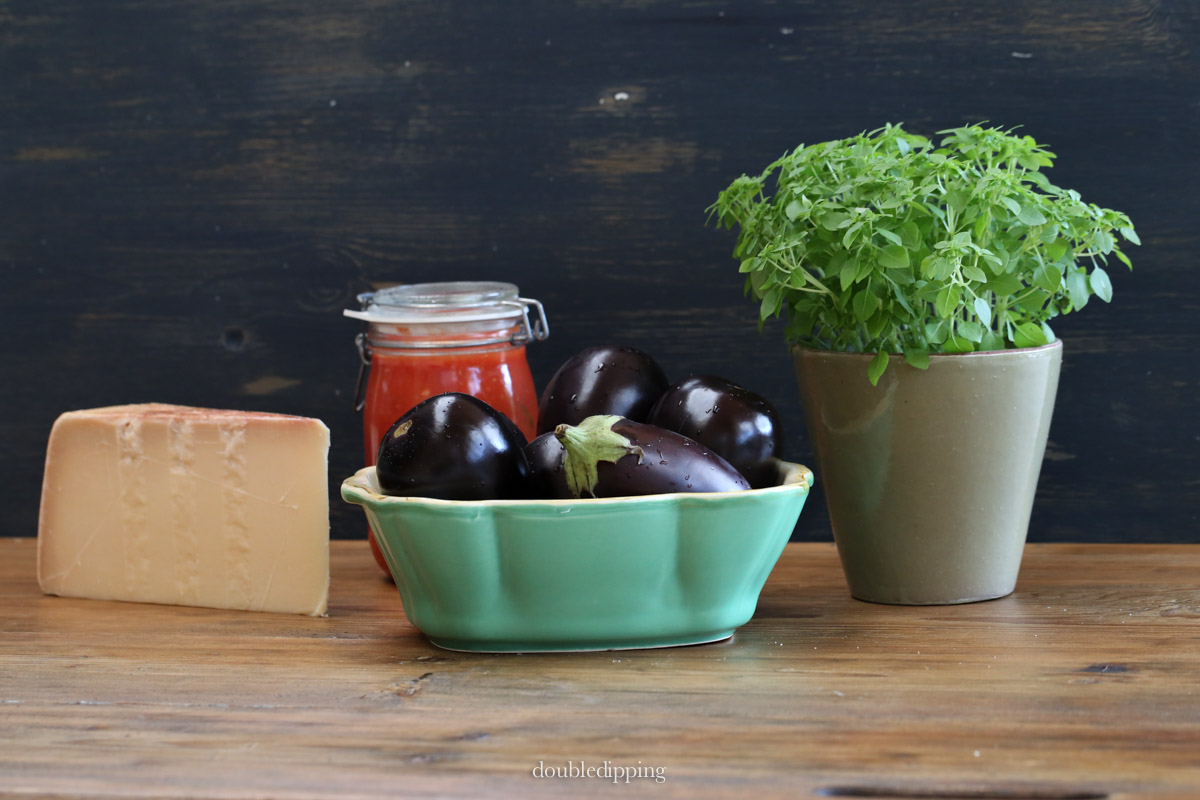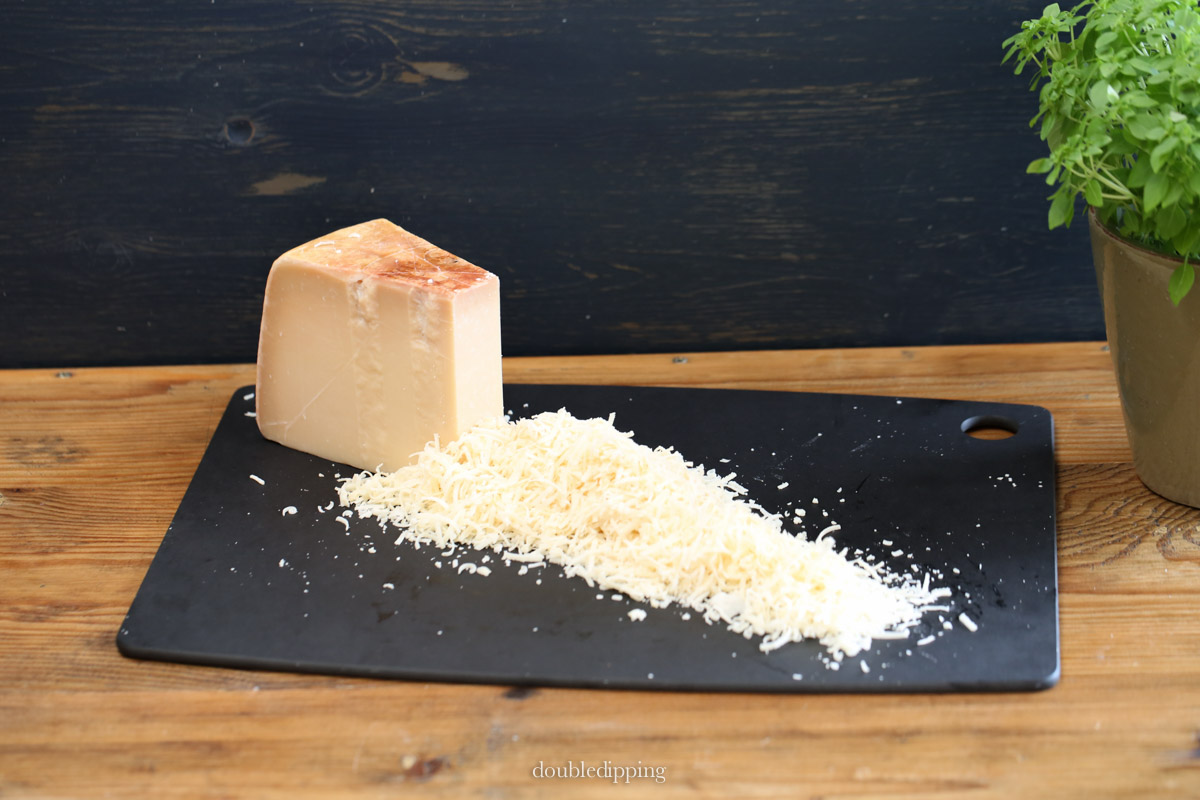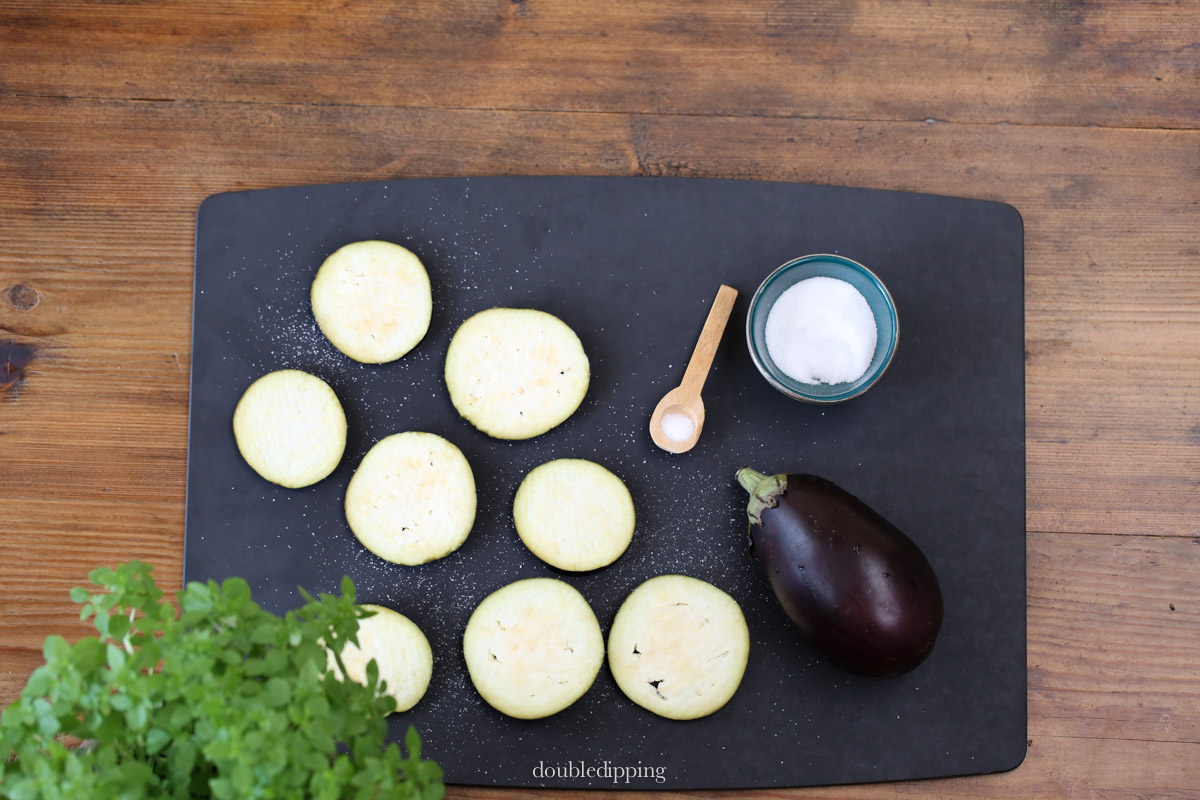 You only need a few simple ingredients that in a way morph into something so special, that you are tempted to think it was promoted to become an ambassador for a refined yet ordinary joy found only with recipes that live longer than a decade.
The assembling of the parmigiana:
Use a deep dish and place first a layer of fried aubergines on the bottom, then cover with some tomato sauce, next a real good spread of grated parmesan cheese. Repeat one more time, aubergines, tomato sauce and grated parmesan. On top you can put the mozzarella and then bake the parmigiana for at least 40 min or until the top turns brown and looks pretty.
I admit it sounds pretty intense but once you made it the next time will be like a home run.
Its easily prepared a head of time, can be frozen after it cooled completely or heated the next day.
Doubledipping Tip :
The dish is named after the amount of parmesan not the aubergine. A layer of smoked cheese can add great flavor. But please save the time and do not use flour and egg for the aubergine.
This is way too much work and will not add a better taste.
This is an honest and simple dish and will please any party for appetizer or main course.
The amount of the ingredients lime parmesan will give your version your signature so feel free to create your own family legacy. Love to hear how it turned out !