While Sophie was still here in Austria, we tried to bake as much as we could eat and every visitor had to sample our creations. The weather was exceptionally beautiful for Christmas break, kind of picturesque. It was snowing lots for hours on end and after extensive walks or hikes on the mountain maybe a relaxing Sauna, what feels more like home than baking warm apple pie? I once heard that the smell of freshly brewed coffee and an apple pie scent would make prospect buyers of a home more prone to purchase than anything else. Just because subconsciously one can imagine to make a cosy home there. Tricky but effective. Sophie and I made this recipe up out of the things we had at home and we used the Pâte Sucrè recipe simplified by Thomas Keller, one of our favorite cookbooks.
Let us know what you think of the look for this post, we tried something new to inspire you. Kind of our "winter look" for food, as the light has just not been too helpful this time. I do kind of like it but I will need a little training still.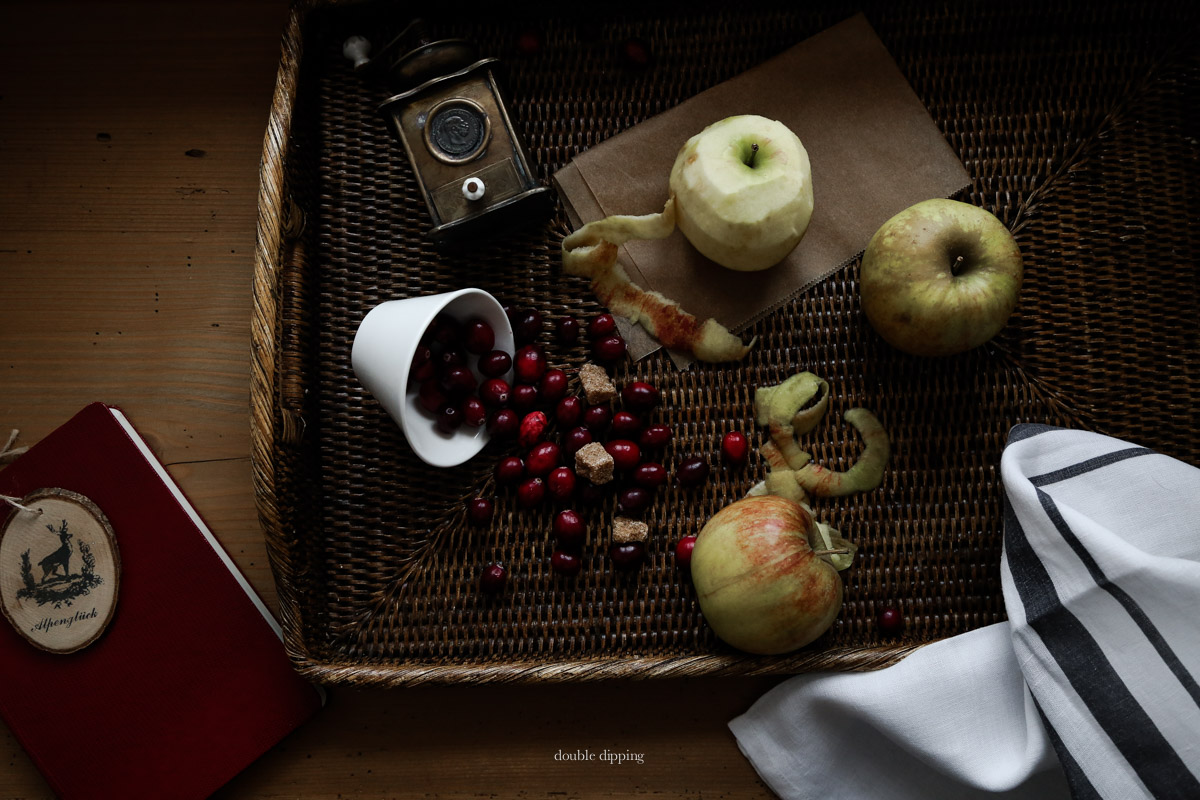 You Need
3 peeled apples, no core, cut in slices
1/2 cup fresh cranberries, rolled in sugar
1/2 tsp cinnamon
3 tbsp brown sugar
1 tbsp lemon juice
Let the apples marinate in the sugar-cinnamon-lemon juice that you heat up once before. Set aside.
for the dough:
375 grams flour
50 grams icing sugar +
90 grams icing sugar
45 grams of almond flour (bought in store,that is finely ground almonds)
225 grams butter at room temperature
1 egg
vanilla, salt
In a bowl mix together: flour, almond meal, and 50 grams of sugar.
With your electric mixer work your butter until it forms peaks, and looks a bit like mayonnaise. Add the 90 grams of icing sugar and combine it for 1 min, then add the dry ingredients from the other bowl. Lastly the egg and the vanilla. Mix for 30 seconds on low speed. Work it with your hands on a clean surface for a bit and refrigerate wrapped in foil and shaped like a flat disc, that way it is easier to work with it again.
 
Once the dough has rested for at least 2 hours or up until 2 days in the fridge you can run your rolling pin over it with the tiny help of flour on your work surface and on the upper side of your dough until it is evenly 3 mm thick. Place your buttered and flowered baking dish upside down on the dough and cut 2 cm away, all around the form, lift it away again and set it down near by. Now with the aid of your rolling pin, start on the edge of your circle and roll the dough up, wrapped around your pin, carefully hold it - otherwise it will unroll - and transfer it over to your baking dish. There you can let it unroll as soon as you see it will sit centered over the dish. Viola! you get a perfect edge, clean as if you actually attended a pastry class! If by any means the dough is nosy and looks over the rim, push it back gently and you get there a slightly thicker crust. No harm in that, some love the crust more than anything - my husband only eats the outer crust anyways, I get the fruity centre and every one is happy!
The best part is the decoration: Here you see Sophie placing all the marinated apples in the form and add some cranberries. Fresh cranberries are very sour so the sugar coating comes in handy. Cover it either with crumbled leftover dough which is perfectly fine and will look great with caster sugar. Or you can roll out the left over and make a grid like Sophie did. Then you need a whisked egg with a sprinkle of milk to brush the pie before baking. And it looks beautiful !!!
Bake at 175°C for 35-40 min or until golden brown.
I couldn't resist to take it outside again and use the rest of daylight and the pretty background with snow in front of the house for this photo.