While my life motto is basically "how to eat as much as possible every day without gaining too much weight", I haven't actually made very many opulent layer cakes. So here is my first attempt at a Chocolate Cake layered with mascarpone cream, an assortment of berries and drizzled with caramel (it already sounds like a mouthful, but don't worry it was incredibly easy to make).
My brother couldn't even wait until we had finished taking pictures of this one, he kept pretending to help with our set up, but only so he could steal little bits of it. Need to keep a close eye on that one!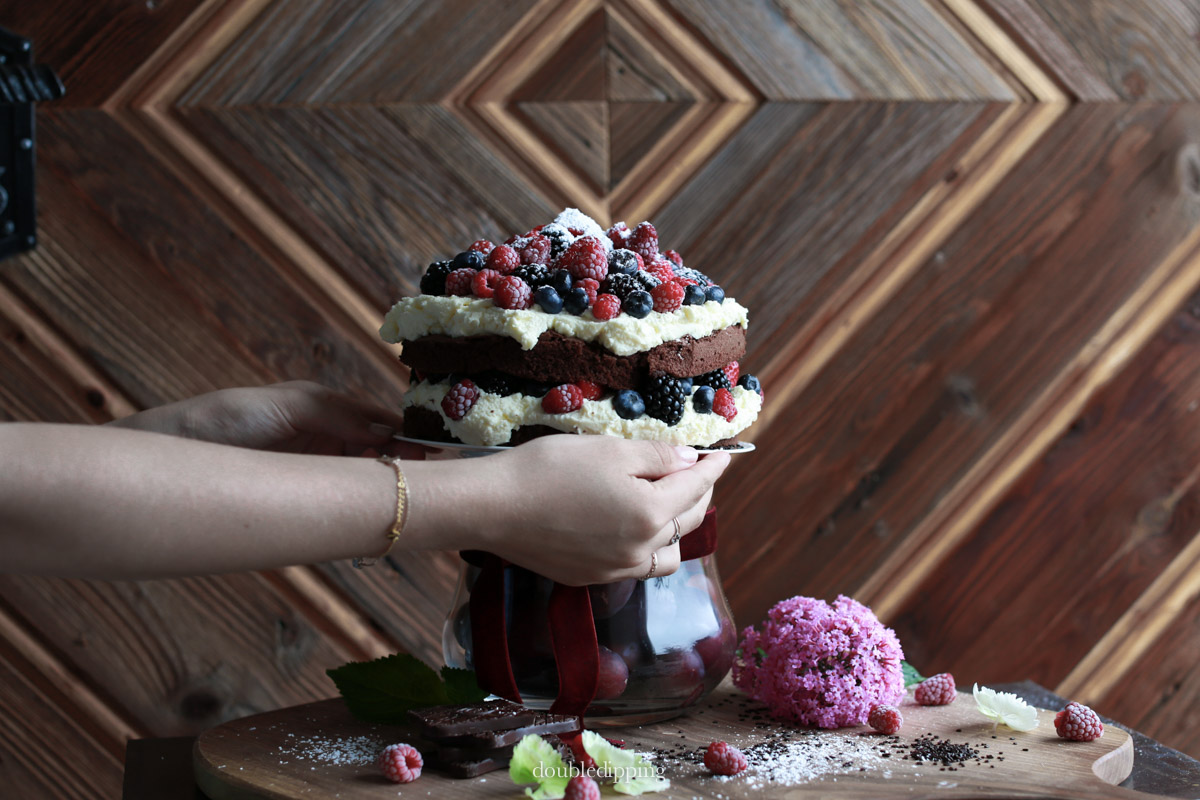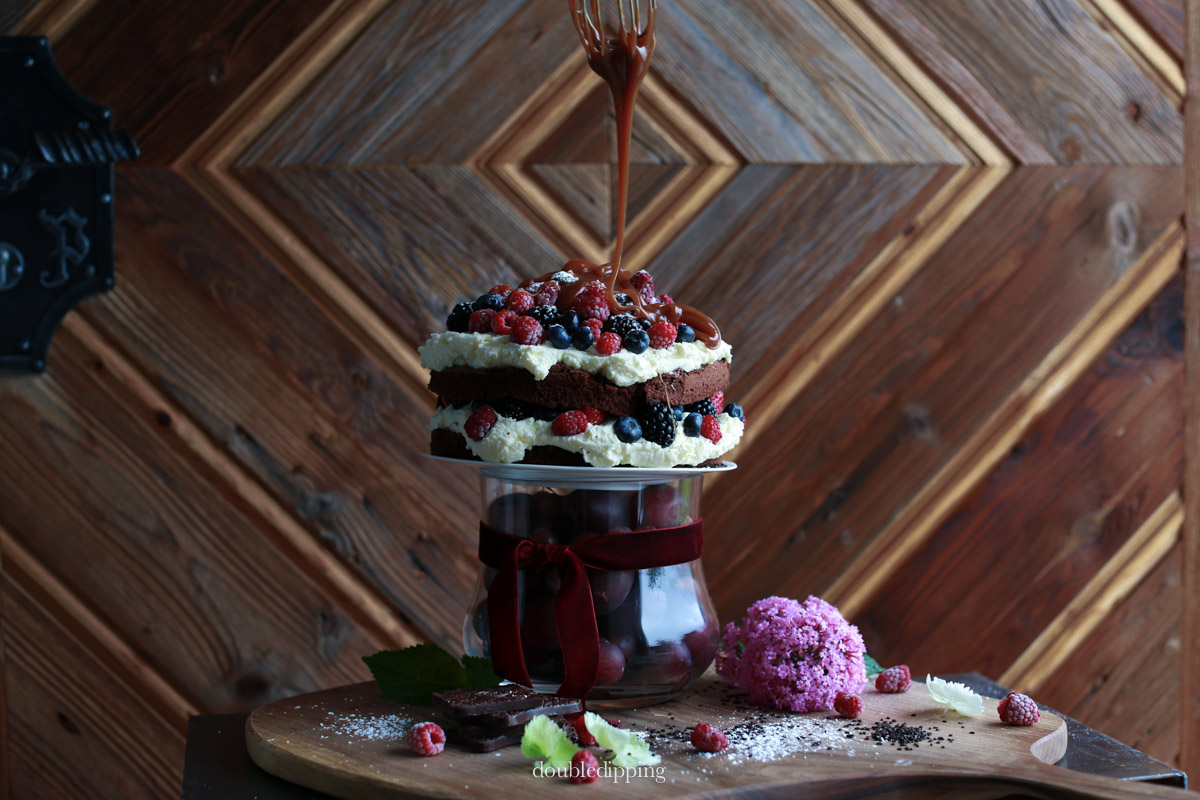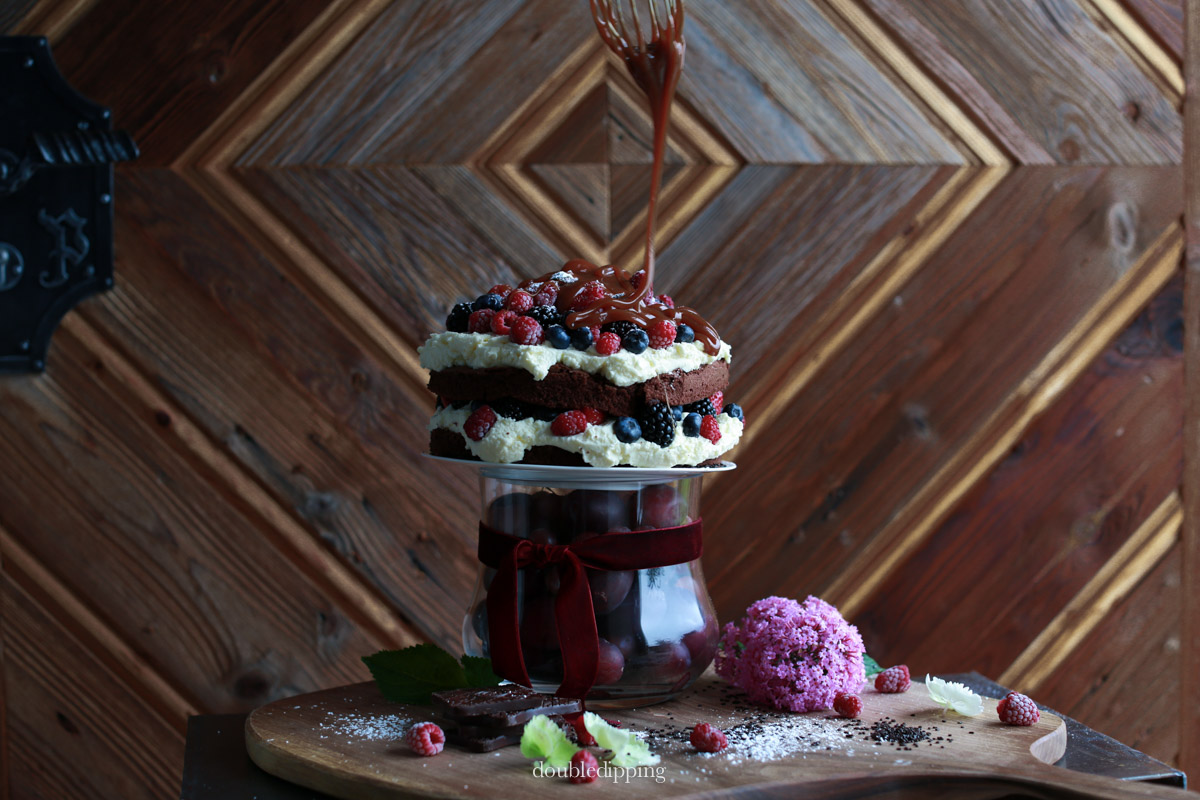 For the Chocolate Cake: (inspired by Call Me Cupcake)
1 cup flour
1/4 cup of cocoa powder
1/2 tsp baking powder
2 eggs
pinch of salt
3/4 cup of brown sugar
100 g of softened butter
75g of melted dark chocolate
1/2 cup of milk
vanilla
Heat your oven to 175°C or 350°F, use a 15cm or 6 inch cake pan and butter and dust with flour
Beat butter and brown sugar until fluffy in texture, add eggs, melted chocolate and vanilla until combined well. Combine flour, cocoa powder, salt and baking powder and add in parts, alternating with milk. Divide evenly between the two cake pans. Bake for about 20 minutes until a toothpick inserted into the center of the cakes comes out clean.
Once the cake has cooled, assemble using your fresh berries and mascarpone cream:
Whip together until smooth:
150g of mascarpone cheese
1/3 cup of powdered sugar
1 cup of heavy cream
For the caramel sauce:
Heat 2 cups of sugar with 1/2 cup of water and 1.5 tbsps of light corn syrup in a saucepan on high heat and cook until it reaches your desired caramel color, add 2 tbsp of butter and 2/3 of a cup of heavy cream and stir until combined. Then take off the heat and let cool. Once it has cooled, you can stir in extra cold heavy cream (I added about a cup) until the caramel sauce reaches your desired stirring consistency.
Then drizzle on top of your assembled cake, and you're ready to devour.